Acoust-A-Boost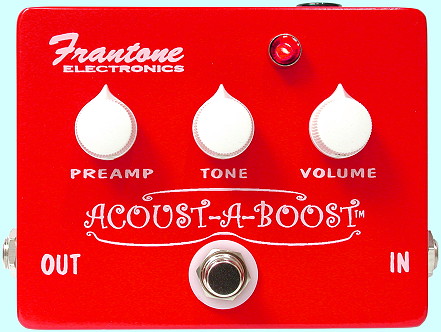 New and Improved!
Lather, rinse, repeat. Ultra low noise op amps and great clear tone make this the perfect choice for acoustic and electric players alike. A popular pedal for those who use piezo pickups. Tame the bright "ice pick" highs while preserving all the lows and mellow mids of your acoustic instrument. Super loud! Use it for warm overdrive with your electric too. Now more versatile than ever with separate preamp and volume controls.
All new Frantone effects come with full signal bypass and status light!
Each Acoust-A-Boost is hand-made in
the USA by Frantone and features:
Tough cast aluminum case

Red enamel finish

True bypass switching

Red indicator LED

Steel LED bezel

Switchcraft jacks

White knobs

Hard mounted PCB

External power jack


Really cute clear feet

©1994-2016 Frantone Electronics All rights reserved.
All images and text are copyright Frantone Electronics. No content of this website may be published or distributed without prior written permission from Frantone Electronics and any reproduction or manipulation of the content of this website for any purpose is strictly prohibited.