What is Frantone?
Frantone Electronics is my company.
I'm Fran, and this is the place where cool pedals are built by hand, with love.
Since 1994 Frantone has delivered great tone all over the world,
and www.Frantone.com has been on the world wide web since 1995.
Who makes Frantone pedals?
We do! Frantone pedals are manufactured entirely in the USA.
Who designs Frantone pedals?
Yours truly. Hey, I do all the hard work, including the circuit designs, PCB layout, the logos and artwork, and everything else.
What does Frantone make?
I make only original analog effects and accessories with an emphasis on tonal quality, clarity, and rugged reliability. I manufacture a line of regular production pedals as well as custom effects made to order. I use only the highest quality components with great attention to detail and an emphasis on durable construction.
What makes Frantone so special?
Completely hand built quality and loving care every step of the way.
Everything is done by hand, including the painting, silk screening, wiring, and assembly.
When you own a Frantone pedal you've got something very special and unique.
Now that's what I mean by hand made!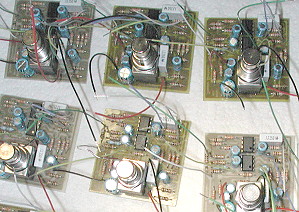 Finally, every Frantone pedal is thoroughly tested and tone checked before being packaged.
This assures that every single Frantone pedal sounds just as good as it looks.
©1994-2017 Frantone Electronics All rights reserved.
All images and text are copyright Frantone Electronics. No content of this website may be published or distributed without prior written permission from Frantone Electronics and any reproduction or manipulation of the content of this website for any purpose is strictly prohibited.